A part of our Community Service is to assist our schools, churches and charitable organizations to raise money for their specific needs. Rolling Hills Skate is proud to offer the best fundraisers around. Are you looking for a place to earn money for your organization where you can have fun and exercise? Rolling Hills Skate can offer you that environment. We offer fundraiser opportunities for ALL non-profit organizations.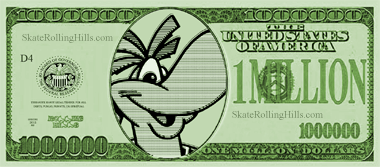 Fundraising parties may only be scheduled outside of our "Public Skating Schedule." The cost of a two hour Fundraising Skating Party is $4.00 per person, rental skates $2.00 extra if necessary. Fundraising Parties require a 75 person paid minimum. If your organization reaches 75 paid, your organization will receive a 50/50 split on all paid admission. That's right, 50/50! For example if your group has a total of 150 skaters then you will receive a check for $300. If your organization does not reach 75 paid then your organization will receive $1.00 rebate on all paid admissions.
It is the organization's choice to allow the public or keep private. Reservations are confirmed with a scheduled meeting to review and sign the contract and leave a $50 deposit. Fundraising Parties include a fully staffed building with all music, themes and programming totally under your direction. Our snack bar is open and available but food is an additional cost. There are no outside food or drinks permitted during fundraisers unless listed and agreed at the signing of the contract. Our fundraiser days will fill up quickly, so please call to schedule your fundraiser today!